Public awareness of the importance of disinfecting and thoroughly cleaning surfaces has never been higher. Wipes are a simple, quick, and effective way to prevent sickness, protect staff and customers, and promote good hygiene. The following article informs readers of the many available options and helps them choose the best wipes for their facility. Providing wipes will show staff and customers that you care for their wellbeing.
What are the benefits of using surface wipes?
Infection Control: Single-use wipes prevent the risk of cross contamination.
Performance: Wipes provide even coverage and leave the surface wet for the recommended contact time/dwell time. This gives the active ingredients enough time to fully work before air drying.
Safety: There are no chemical aerosols that can lead to respiratory issues and no PPE required.
Minimal Training: Wipes are ready-to-use with the correct concentration of ingredients to save you training time and labour costs.
Convenience: Wipes are easy-to-use with a one-step process for faster cleaning and disinfecting.
Alternatively, sprays and towels can be less effective, provide inconsistent coverage, get wiped up before the recommended contact time/dwell time, and potentially re-contaminate surfaces. More and more customers are choosing to switch from using sprays and towels due to their ineffectiveness and limitations.
What's the difference between disinfecting, sanitizing, and cleaning wipes?
Disinfecting Wipes kill bacteria and viruses on surfaces to prevent the spread of germs and lower the risk of infection.
Sanitizing wipes lower the number of microorganisms on a surface to a safe level.
Cleaning wipes remove dirt and germs from surfaces but do not necessarily kill them.
For heavily soiled surfaces, clean the surface before following disinfecting instructions. Cleaning the surface and removing dirt make it easier for the disinfecting chemicals to do their job and kill bacteria and viruses.
Where to Use Wipes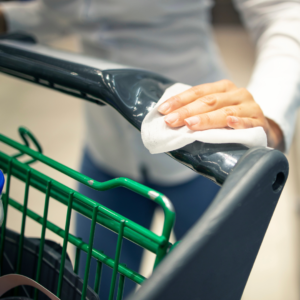 Wipes are ideal for use in a wide variety of industries and facilities, including the following:
Offices
Fitness Centres
Schools / Colleges
Retail Stores / Shopping Carts
Industrial Locations
It's important to consider the types of surfaces to be wiped down to ensure the wipes and formulas are compatible with those surfaces. Recommended application areas include desktops, counters, tables, chairs, railings, light switches, doorknobs, fitness equipment, POS areas, shopping cart handles, machinery, and tools.
How to Choose the Right Wipes for Your Space
First, determine your goal and the purpose of the wipes. You'll want to consider the following when selecting the right wipes for your space:
Effectiveness: Determine what kind of germs are typically in your facility and if the chosen wipe is effective against those pathogens. Look at the kill claims for the product along with the contact time/dwell time to determine if it is best suited for your space.
Contact Time/Dwell Time: The length of time the disinfectant must remain wet on the surface to kill germs. Consider how often the surfaces are used, the frequency of wiping, and the time the wipes need to effectively do their job.
Safety: Determine which formulas are compatible with the surfaces to be wiped. Also consider whether the wipes require PPE and whether you prefer a fragrance-free formula.
Wipe Count: Determine how often your facility will be using wipes and choose from a variety of options such as canisters, refill rolls with a dispenser, and buckets of wipes.
For more information and help choosing the best wipe for your specific needs, contact our Customer Service Team at info@touchpointwipes.com or call 1-877-910-4809.