From kindergarten through post secondary, students are taught the importance of good hygiene. This has never been more evident than in the past three years, since March 2020.
Implementing a Hygiene Strategy exemplifies your concern and commitment to student wellbeing. Staff, and students, especially those with health concerns, as well as parents and guardians will appreciate the efforts made on their behalf.
In the school setting, it's important to regularly clean and disinfect the many high contact surfaces. These include desks, tables, keyboards, doorknobs, railings, light switches, washroom fixtures, and more.
Not only will a clean environment lessen the spread of colds and flus—which can live on hard, non-porous surfaces for up to 48 hours—it will also give students a better opportunity to do well in their studies by increasing productivity and decreasing absenteeism due to illness.
Providing the optimum healthy learning environment means finding products that kill germs, prevent cross contamination, and are safe for use on all surfaces, including those with which food comes in contact.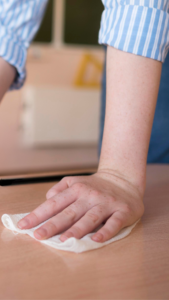 Using disinfectant wipes is one of the easiest and most efficient ways to keep these surfaces as germ-free as possible. Wipes are easy to use, can be made readily accessible, and their correct use requires minimal training.
Self-initiated hygiene becomes increasingly important as students go from elementary to high school and then on to college or university. College and university common areas, as well as campus gyms, have many high-touch surfaces that require regular cleaning. Making disinfectant wipes available will create a healthier environment and positive image that students, staff, and visitors will notice and take pride in.
Fragrance-free, non-corrosive Touchpoint® wipes provide a convenient, cost-effective solution, as wipes are less invasive to students and staff than airborne sanitizers and other disinfecting systems. Wipes allow for the precise application of the germ-killing ingredients.
Touchpoint® wipes are easy to use. Simply wipe down surfaces that require disinfecting and allow them to air dry. And because the wipes are pre-portioned, their use reduces waste and minimizes the work it takes to keep schools clean.
Learn more here: https://certaintybrands.com/product-category/by-industry/education/